Commercial Relocations
No matter your unique business requirements, Sharps Move Solutions has the experience and resources to provide a complete relocation of your business with minimal disruption. We also specialise in internal and staff relocations. We operate in London and Nationwide.
Business Movers
Sharps Move Solutions understand office relocation can be a huge commitment and a period that runs the risk of income loss and a loss of productivity for staff members. We can solve these problems by devising detailed plans to help you get your offices moved quickly and effectively.
Our team will work closely alongside you to ensure that the relocation runs smoothly in good time. We will make sure everyone involved knows the plan of action, and all Health and Safety requirements and regulations adhered to.
We will ensure all our office relocations are carried out with as little disruption to your business and staff as possible. We aim for business to resume the moment you arrive to the new premises. An ideal way to do this, favoured by our business customers, is to carry out office relocations over weekends.
We understand that additional to furniture, IT, other business vital equipment and machinery could be required to move too. We have IT and machinery specialists who can handle such equipment and make sure that everything is moved safely and up and running ready for use straight away.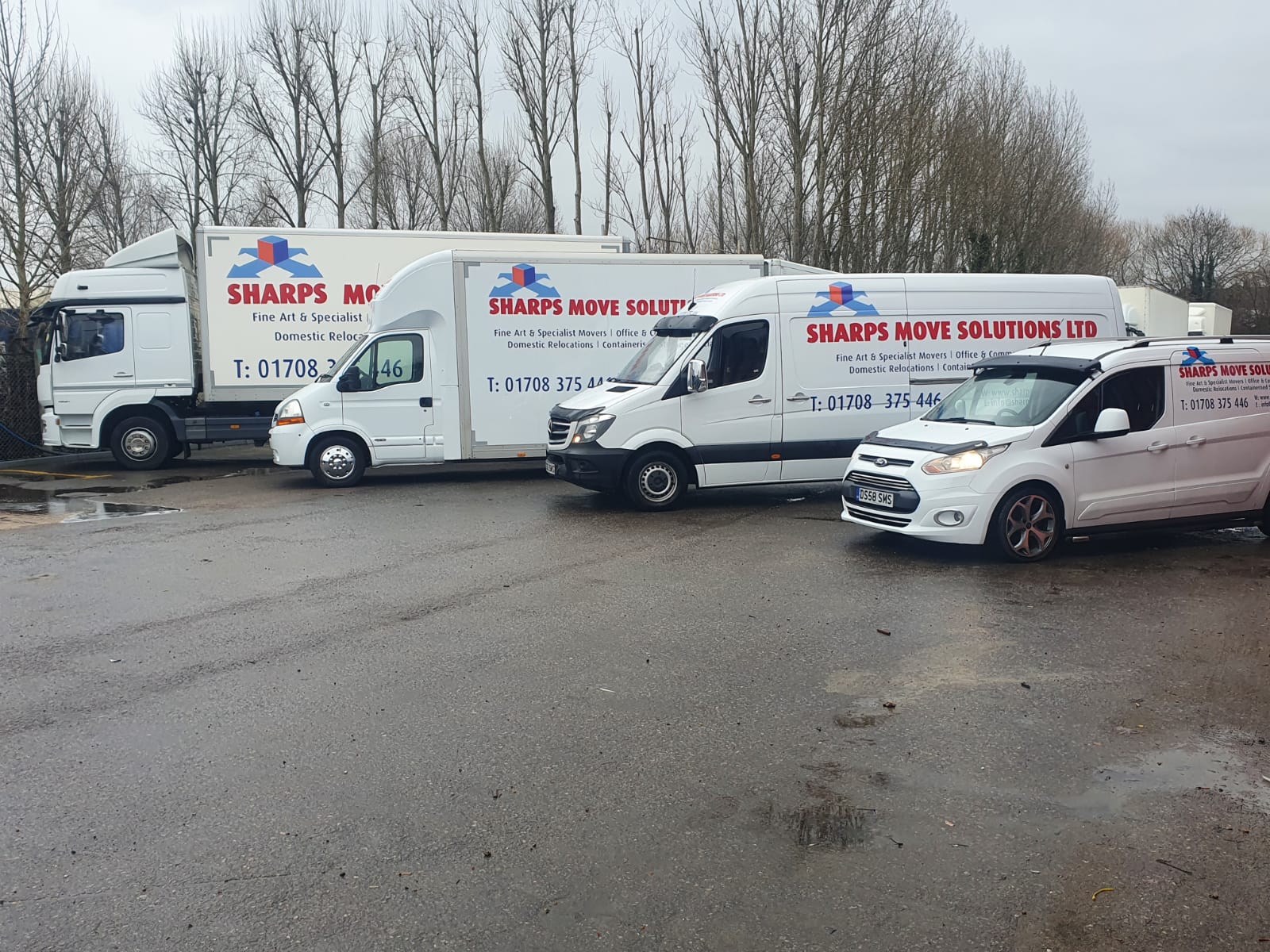 There is no commercial relocation too large or too small for Sharps Move Solutions.
Sharps Move Solutions aims to be a cost-effective service, so let us know your previous quotes and we will do our best to match or even beat it.
To arrange a free, no obligation site survey to identify the requirements and the scope of your relocation, please contact us today.
Sharps Move Solutions will arrange the hire of the required size crates to ensure your goods and IT are relocated safely and securely. We will arrange the delivery of crates to arrive prior to the relocation for packing of files and personal effects, and collection once unpacked when the project is complete.
Our trained operatives are highly experienced in the dismantling and installation of all types of office desking and furniture.
Sharps Move Solutions Ltd are registered waste carriers and will make every effort to recycle any items for disposal before disposing at a registered, certificated waste provider. We can also facilitate certificated WEEE waste of electrical items, and certificated shredding of confidential waste.
We have worked with Sharps Move Solutions for the last 8 years, and can say in that time we have been fully supported with trained and experienced operatives and fully equipped vehicles, from 3.5t Lutons to 26t Move vehicles.
Sharps Move Solutions have helped us with a large number of moves all over the UK, and mainland Europe. They have also been involved with a number of large new furniture installations and pilots. They have always been reliable, helpful, and the guys they use have represented our company with our clients well.
The length of time we have worked with Sharps Move Solutions is testament to our ongoing relationship.
I've worked with Danny and his crew for a couple of years – very professional and honest and always wanting to achieve best results for every job requirement set to them.
Very happy to call them an operations partner for our clearances, installs and storage.
STP have enjoyed a close working relationship with Sharps for over 8 years, they are our number one go-to company for removal and storage solutions.
We can trust them to provide the same level of customer service that we value from our own engineers and employees.
They have sometimes been called upon to provide a service at very short notice and have always gone the extra mile to accommodate these requests.
From back-office support to front line operatives, it is a pleasure to work alongside these valued service partners.
We moved office for the first time in many years. Sharps Move Solutions were extremely helpful in their advice, flexible in meeting our timescales and competitively priced.
Everything arrived at the new office intact and they assembled all the office furniture quickly and securely, demonstrating their experience. We will gladly recommend Sharps to anyone.
Frequently Asked Questions
The following questions and answers are provided for convenience.
If you have a question and the answer is not provided here please get in touch.
What is your quotation process?
From initial enquiry via our enquiry form, phone or email, a site survey will be carried out to determine the requirements of your relocation. A quotation proposal will then be sent to you for approval. In some instances we can provide quotes based on a list of items to be moved.
Are all our goods insured during the moving process?
Sharps Move Solutions Ltd have a full goods in transit and storage insurance policy, so from the moment the relocation starts all goods are fully insured. Copies of insurance policies are available on request.
Are you COVID-19 compliant?
It is a priority of Sharps Move Solutions to protect our staff and clients when completing relocations. Before commencement of any work all staff check their temperature and for the presence of any COVID-19 symptoms at the beginning of every working day. Staff wear protective PPE and are supplied with hand sanitiser to use.
Get a Free Quote -or- Ask a Question